WHY SLACKSHOP.CZ?
We know what we do.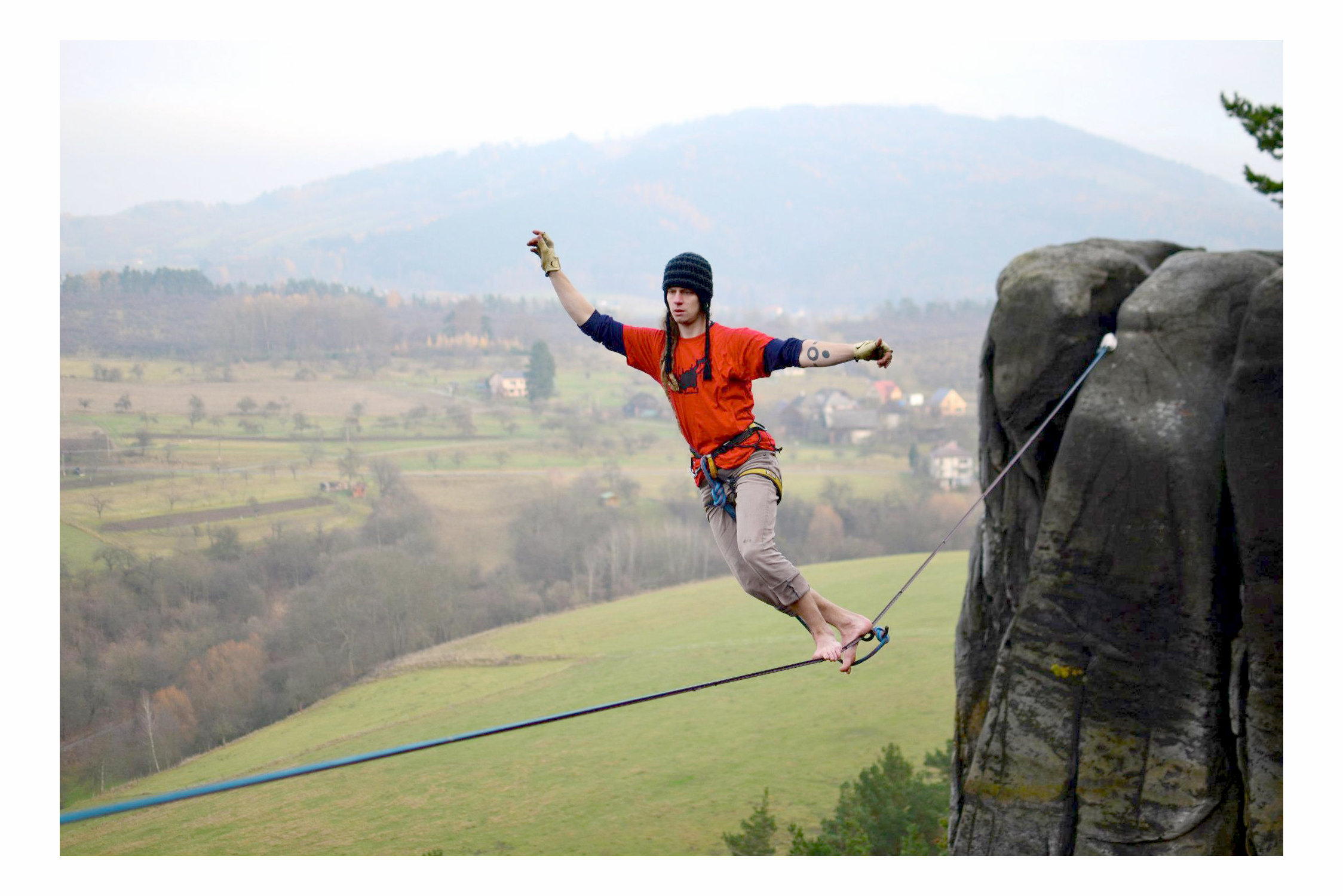 As selfish as it sounds, we understand slacklines. Challenge us - ask us any question you like.
We're a manufacturer, not a reseller.
All Equilibrium Slacklines (EQB) products have been developed and made by us. We know the products from the first webbing thread to the last weblock screw throughout.
Our products are Czech made
Vast majority of all our goods are Czech made.
We aren't a reseller
Vast majority of all items is in stock and ready-to-be-shipped

We have gained our ground ourselves
Slackshop.cz was opened in 2008 - a tradition is not just an empty phrase to us. Our lines have been in use all around the world for more than 13 years.
We aren't afraid to face you
Your order can be collected at our warehouse in Jablonec as well. In fact, we'll be happy to give you a tour and let you ask a question or two as well. We are proud of our products.
We support talented slackliners
Many of the enthusiastic slackliners we've given tangible support are among the world's best ones!
Minimising carbon footprint
Only fully recyclable materials are used; we recycle; GLS ThinkGreen courier service provider is used; Czech FeelEco bio-degradable detergents are used in our office. We go to work on bikes or skateboards. Some of us are vegetarians :)

We are socially responsible
We are a regular Dobry Andel charity donor.
A bit of history
Slackshop.cz was founded in 2008 simply because we needed gear we couldn't get anywhere. But we weren't really interested in importing foreign brands so we've been in development, testing, and production ever since. All is Czech made.
Our beginnings were quite funny - producing the first slackline sets in a tiny Prague students flat. Our customers collected their goods in the kitchen between the sink and the cooker while Chiquita and Vincent, our fellow co-founding tabby cats, were running below the customers' feet. For the record, the cats are still considered our founding fathers :)
Over the course of time, it was getting clearer and clearer that our hobby's overwhelming us so it happened in 2011 that we decided to cease all our temp works and studies and go slackline full-time.
Equilibrium Slacklines were born, and is now considered to be one of the world's top-tier slackline gear manufacturers. Besides essential slackline sets, we began developing more complex tensioning systems, pulleys and weblocks.
Our products can now be seen used by slackliners in over 20 countries all over the world, we support over 10 elite slackliners, and are sponsors of various European slackline festivals.
Even though you can't collect your slackline in our kitchen anymore, one thing still hasn't changed - you're buying the same products we're using and we wouldn't buy anywhere else ourselves!
Jakub Hanus & Jakub Dostal, founders and managers of slackshop.cz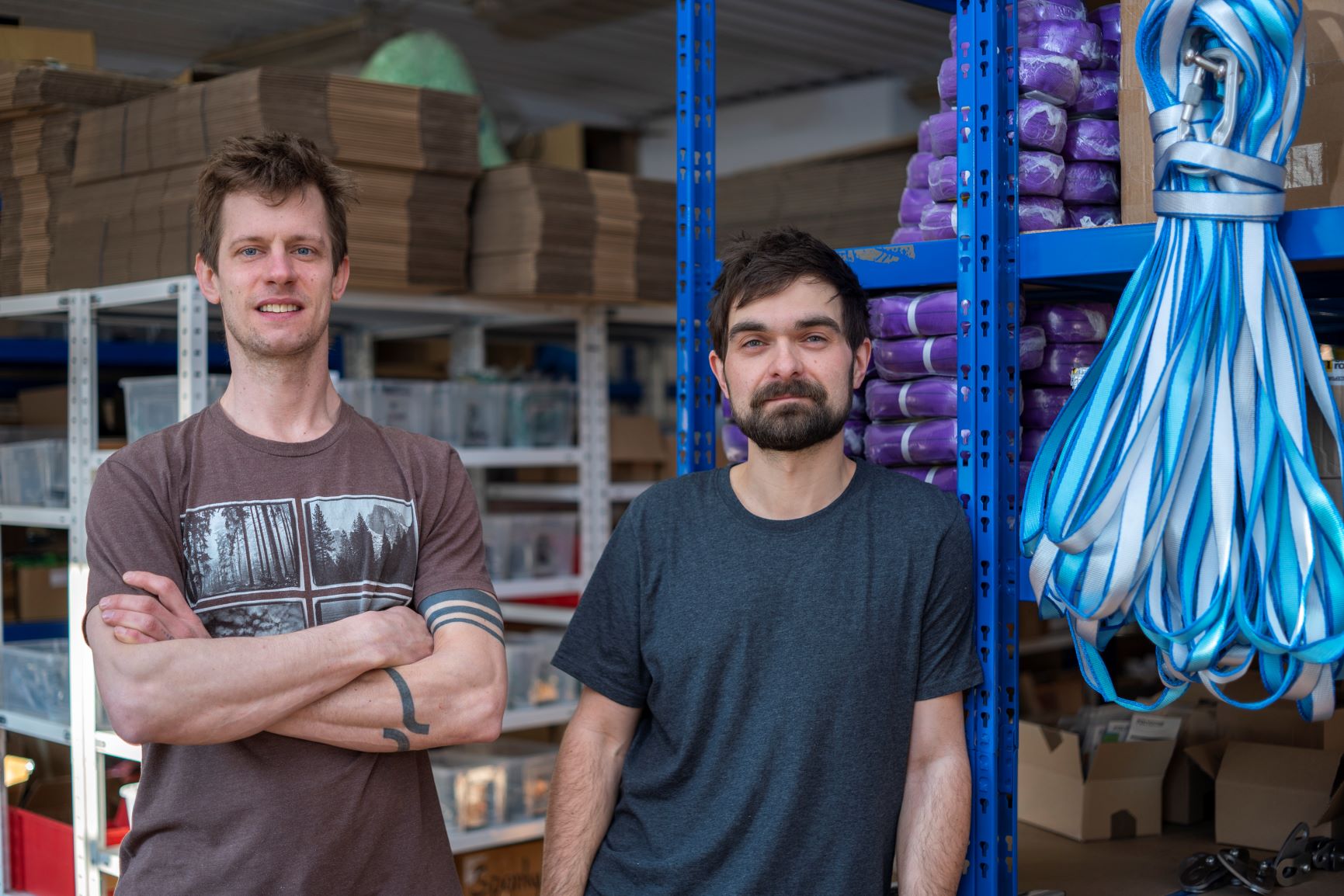 Step by step through the slackline world
2023
You are now part of our story, ok?
Even you can write the story with us! Is slackline life-style and philosophy to you? We're glad to guide you literally every step through the slackline world. Enjoy your stackline; the rest can wait!
2022
Micron is finally out!
After several years of developing we finally released new slackline pulley - Micron. First slackline modular pulley system worldwide. For high spirited slackliners only!
2021
Lama on the rise
Working hard on Lamaholds product and new eshop. Finishing our new slackline pulleys Micron and linegrip. Busy year!
2020
Be Lama!
We enjoy not only slackline, but also climbing. Our new project - Lama Holds - is introduced. Wooden holds and climbing hangboards, not only for climbers. We make everything ourselves in our new Lama Lab in the Jizera Mountains. Be Lama, stop drooling, start spitting!
2019
Equilibrium Lab on the rise
We complement our development laboratory with an automatic Brother sewing machine and a ripper, on which we test the strength of sewing and materials. Finally we make custom sewn loops! We're launching Rollex - a revolutionary highline pulley that we've been working on for almost two years. Spin it with us!
2018
Back to our roots!
We decided to move from Prague to our hometown in Jizera mountains. Finally, we purchased a CNC machine. Thanks to it, the journey from the idea to the final product is even shorter. New ultralight weblock Mithril and Pirat are being designed and tested on extreme highline projects in the Alps. 
2017
We do not sleep on laurels
We developed and launched two new weebings - Fresh and Skye which immediately became a bestsellers. We are thinking about new weblocks which our new partner - a 3D printer is helping us with. We print prototypes of our products or a bottle opener on it. A complete sci-fi, man!
2016
We are still enjoying it 
We support more slackline festivals and enthusiasts. Danny Mensik, our dear friend and beloved team member breaks the gravity laws (and world record) and together with Nathan Paulin crosses 1 kilometer highline in French Alps. We are amazed!  
2015
Design by balance, made for fun
FunXion series has been launched; probably the world's most comprehensive slackline equipment series. At least that's what we say :). It's really cool!
2014
One small step for mankind, one huge leap for us
We've had enough or years of improvisation, and have moved to a proper place. There is an office, a warehouse, and even a table tennis! We're off to our first exhibition equipped with a fridge full of beer for our business partners. Our FunXion series is introduced. 
2013
Going worldwide
We're fine tuning our products, and are getting noticed abroad too. Our slacklines are used in Morocco deserts, Utah canyons, and in city parks all over Europe. Borders no longer exist.
2012
Good bye attic, hello ground floor
Enough of the attic, time to move to a bigger place has come, and the basement will do the trick this time. We no longer do stuff for fun; we're going full-time and hello, to our surprise everyone seems to be interested in our products. Well, almost everyone :)
2011
Not alone
New slackline enthusiasts are recruited. We try to support talented slackliners and work with them on fresh slackline gadgets development as closely as possible. Things are happening!
2010
Off to attic
We´re moving to a bigger place. Finally, a separate room is acquired. Sadly though, it´s an attic. Everything is transported up and down, very practical indeed. First weblocks and pulleys are developed and guess what, people actually like it! We are really happy. 
2009
In vino veritas
First slackline kits are being designed. Seeking suppliers, trying to understand the secret tongue of our new accountant. Packaging materials are provided by the local wine shop. Our first hundred customers receive their goods in fine wine boxes. Cheers"
2008
Slackline cooked in the kitchen
We´re founding our business as students. One wardrobe in a student flat in Prague is our warehouse and office too. Customers collect their goods in our kitchen between the fridge and stove. Bon appetit! 
2007
First steps to the slackline world were taken
We try slackline for the first time. First steps are uncertain, but falls are certain. Hell we´re having fun!
2002
Jakub meets Jakub
Jakub Dostál and Jakub Hanuš meet at the high school in Jablonec nad Nisou. They have no idea that in a few years they will hitchhike to Spain and back together, move into the same student apartment and start a prosperous company together, which will be dedicated to the development of slackline equipment, a sport that they have no idea about yet.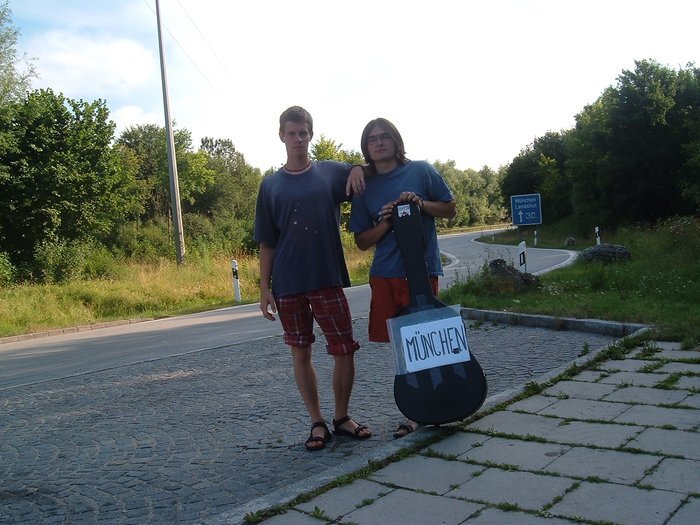 Hitchhiking to Spain. With the guitar, with no money (2006) :-)