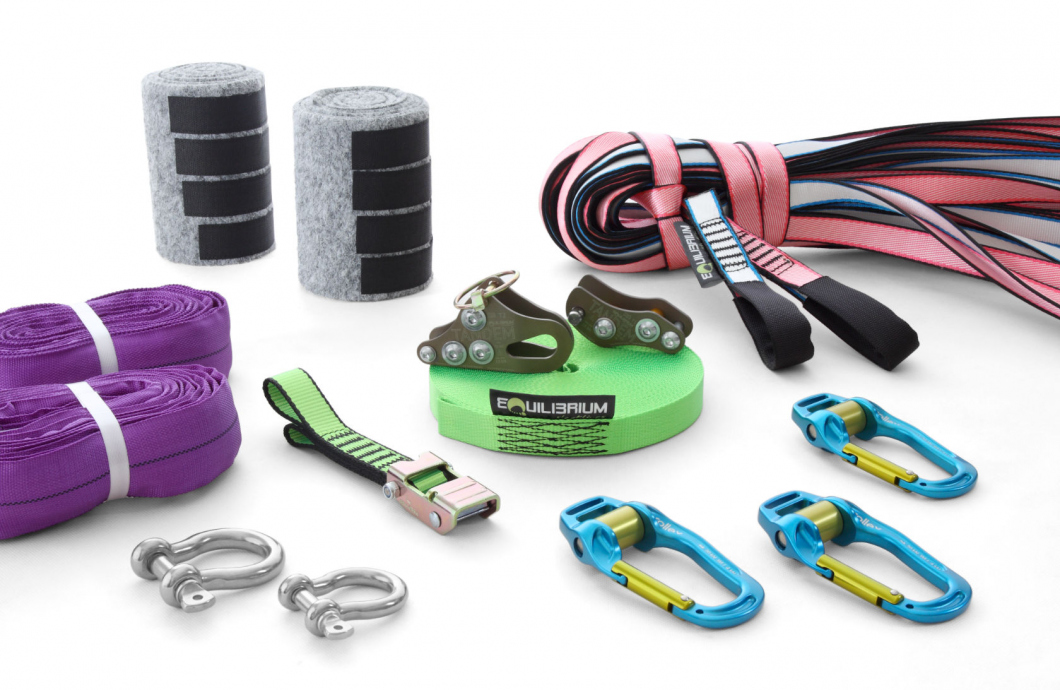 Zen De Luxe is the most powerful version of our best selling longline kit. 3x Rollex carabiner makes the system easier to use and more efficient. 
Product description
We designed the Zen De Luxe kit for longline enthusiasts. Utilizing 3x Rollex carabiner (basically a webbing pulley made specifically for slacklining) it has all the components to rig a longline up to 100 meters long. 
We invented the Zen kit and started selling it in 2013, and it became a legend since then. It combines the advantages of a pulley system (such as low weight and great efficiency), but is still relatively affordable. 
Tandem De Luxe is basically a pulley system that uses light webbing pulley instead of rope. There is an integrated miniature weblock in the Tandem so anchoring and pretensioning is just a matter of minutes. 
EQB Zen De Luxe with 60 or 80 m SKYE2 or 100 m Candy webbing with sewn loops on both sides (so you can later extend your longline using another piece of webbing and a soft shackle). 
The advantage of Zen De Luxe over Zen Pro version is even higher rigging efficiency (5:1 vs. 3:1 multiplier). If you are often rigging a longline by yourself and you don't want to work out too much, then the De Luxe version is a perfect match for you ;) 
Designed, tested, and made in the Czech Republic.
Zen PRO kit includes:
60/80/100 m webbing of your choice with sewn loops at both ends
20 m tensioning webbing Slim with sewn loop (in 60 m version)
30 m tensioning webbing Slim with sewn loop (in 80 /100 m version)
tensioning system Tandem De Luxe (with 3 Rollex pulleys!)
1x shackle Omega 10 mm
1x shackle Omega 12 mm
2x 2m / 3m 1ton spanset
Manual
Data sheet
Length

60 / 80 m

Width

25 mm

Weight

6100 g

WLL

6 kN

Breaking Strength

25 kN
Utilization

FAQ
Sure, just place anchor spansets about 2 meters above the ground.
Due to absence of slackline legal regulations, no manufacturer including ourselves is allowed to say their products are suitable for highline. Products with breaking strength above 30 kN are commonly used in highline however it is imperative to familiarise yourself with all safety measurements as well as to be experienced enough before taking such steps.
The classic Zen kit uses just a steel ring instead of Rollex. It is cheaper but not as efficient to rig the line. Zen De Luxe kit with 3 Rollexes utilizes ball bearing rolls which makes tensioning much easier.