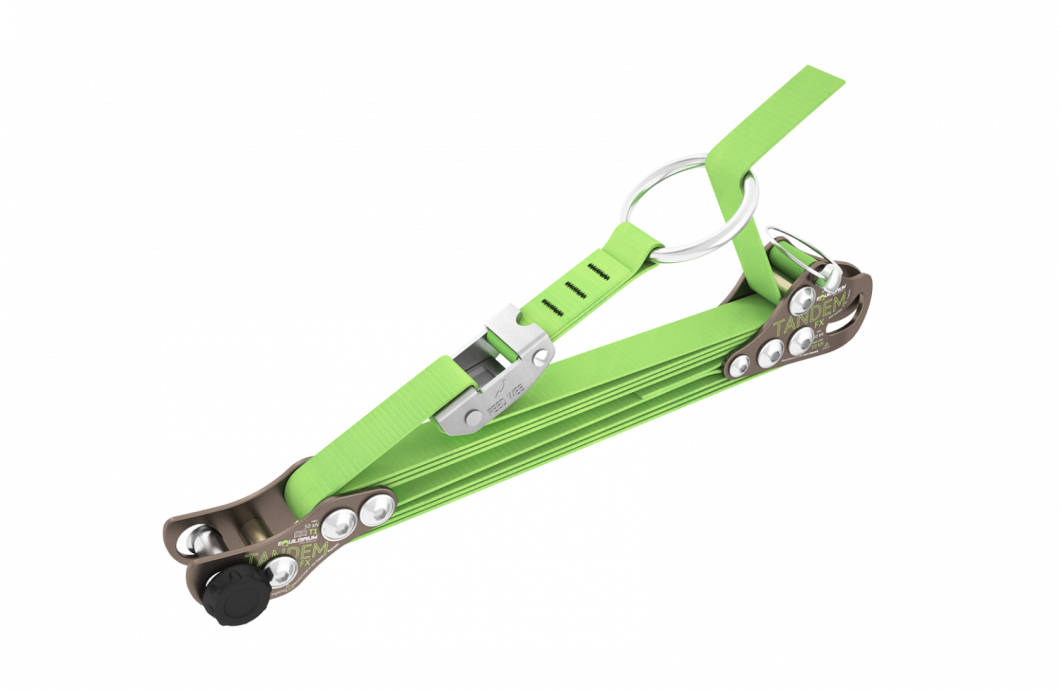 A kilo-weighing pulley system that'll let you rig a 50m line easily. We're ever so proud of this gear.
Product description
Are you tired of rigging lines with a ratchet but don't feel like it's time to go for a pulley system yet? Well then, it sounds like you need Tandem FX. Super lightweight and compact webbing pulley system that will let you rig a 50m longline really easily. It's sold as a single item or as a part of the Zen 35 & 50m kit.
Tandem FX tensioning system utilizes a webbing brake which makes both tensioning and releasing pretty smooth. Most importantly though, there's a built-in 25mm line weblock so you don't need to get any extra. The weblock, just like the system, is tiny yet so strong it withstands a load greater than 5 tons! No need to worry about the safety.
The Tandem system weighs altogether just over a kilo, and that includes 20m of tensioning webbing, a multiplier and a weblock. We like to think there is hardly anything that lightweight on the market which is what makes Tandem perfect for your daily longline park sessions as well as travelling or highline ventures where every gram counts.
We're certain you will love Tandem FX just as we do.
The system was designed, developed, tested and made in the Czech Republic.
System Tandem FX includes:
tensioning system Tandem FX (T1, T2)
CamPull (simple webbing brake)
20m tensioning webbing with sewn loop
handy mesh bag
user manual (cz/eng)
Manual
Data sheet
Weight

1120 g

WLL

10 kN

Breaking Strength

50 kN

Inner width

26 mm
Utilization
Tandem FX system usability
INSTALATION SCHEME
THREADING OF CAMPULL
FAQ
Tandem, just like primitive system, is categorised as a webbing pulley system. Tandem's efficiency is however far greater that the one of a primitive system as it transfers energy way better, and comes with a break too which allows for releasing the line gently and smoothly which cannot be achieved with a primitive system.
Due to absent legal restrictions for slackline (and especially highline), there are currently no norms in place and thus all manufacturers including ourselves are obliged to clearly state that their products are unqualified for highline. Products with at least 30kN MBS are however commonly used in highline but it is utterly important to get familiarised with all safety measurements and precautions, as well as having sufficient experience with tensioning.