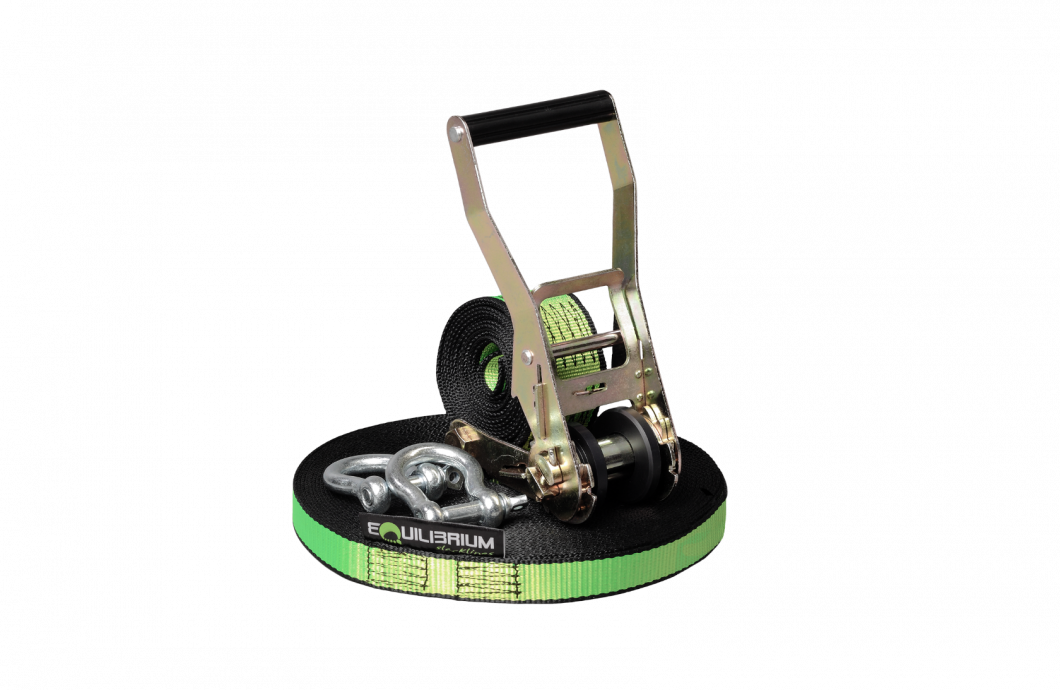 Tensioning this kit is so easy even our graphic designer Tonda can do it. So he says.
Product description
We thought of everybody who prefers walking and static tricks to wild moves on the webbing when designing the Balance set.
Long-handle ratchet allows tensioning the webbing within minutes. Nylon spacers will perfectly centre the webbing in the ratchet. Having fun with the stretchy two-tone Neon webbing is guaranteed.
The webbing life-span is extended by the steel shackle mounting making the set last as good as new much longer.
The EQB Balance set was designed, tested, and made in the Czech Republic.
Manual
Data sheet
Length

18 + 2 m

Width

25 mm

Weight

2480 g

WLL

5 kN
FAQ
Though that's exactly what it may look like, it is not quite true. It is far more important to put effort and time to the balance training and focus on the right technique; both your mind and body need time to get used the new way of moving around, and the width doesn't really affect the learning process. Check the "How to begin with slackline" section on the Slack Info page.
A ratchet is a tensioning medium often used in elementary sets but its efficiency is rather limited to setting approximately 20 m. If you are going to set a longer line, we recomend you to take a bit more sophisticated tensioning system such as EQB Tandem.