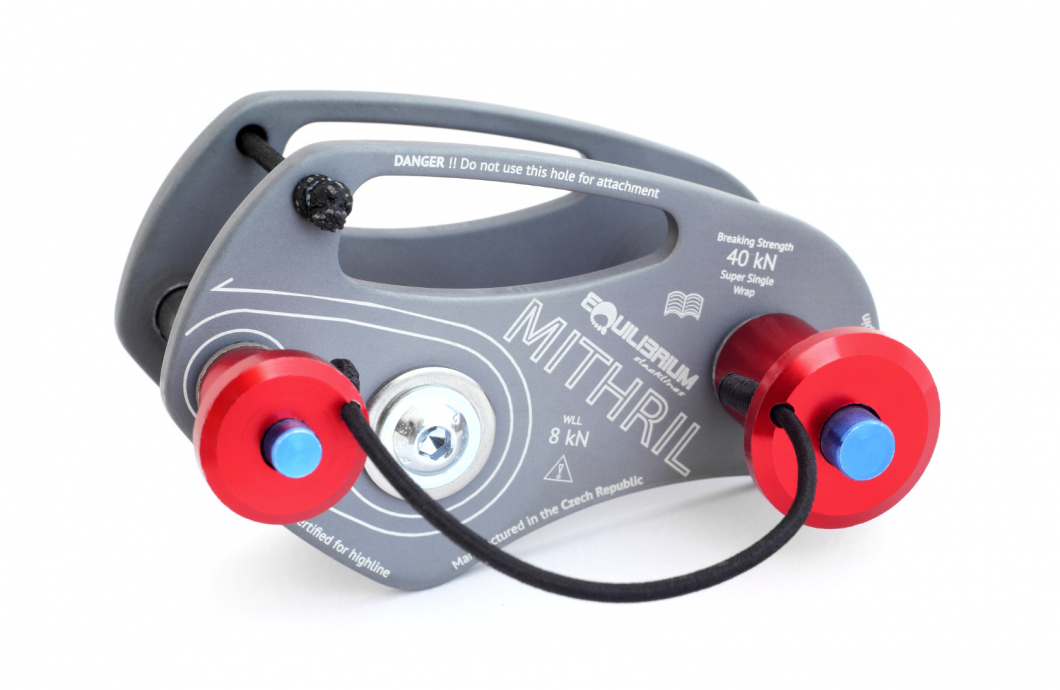 Aluminium weblock with 2 quick pins. Ideal for highline projects or for travels.
Product description
EQB Mithril is a long-awaited weblock with aluminium alloy sideplates. Its main feature is very low weight - it has only 165 grams in PP (Pull Pin) version and 175 grams in QP (Quick Pin) version. 
Pull Pin is secured in the weblock with 2 steel balls and it can be pulled out with a single move. Quick Pin has an extra safety feature that requires to push the blue button to release those locking balls. 
8 mm front pin is used to anchor the main line, 10 mm rear pin attaches Mithril to the anchor. The best way to do so is to use a soft release webbing. You can even use the soft release to tension line up to about 30m (100 ft) long. 
The rubber cord between sideplates keeps the webbing in the weblock so there is no chance the main line could get into dangerous position during tensioning. 
3,6 tons strength (tested with ISA method - Super Single Wrap) and maximum load 7 kN makes EQB Mithril an ideal companion for highline projects where each gram is counted. 
Manual
Data sheet
Weight

166 / 176 g

WLL

7 kN

Breaking Strength

36 kN

Inner width

26 mm
FAQ
Slacklining is a young sport and there is no industrial standard that would allow us to certify our products slecifically for highlines. Of course all our products undergo extensive break testing and real-use testing in the field (most of the time actually on a highline) during their development, however, there is no product on the market right now, that has a certificate for highline.
Super Single Wrap is a weblock testing method developed by International Slackline Association (ISA). With this method we can reach high forces during testing and it matches the real use of the weblock pretty accurately.