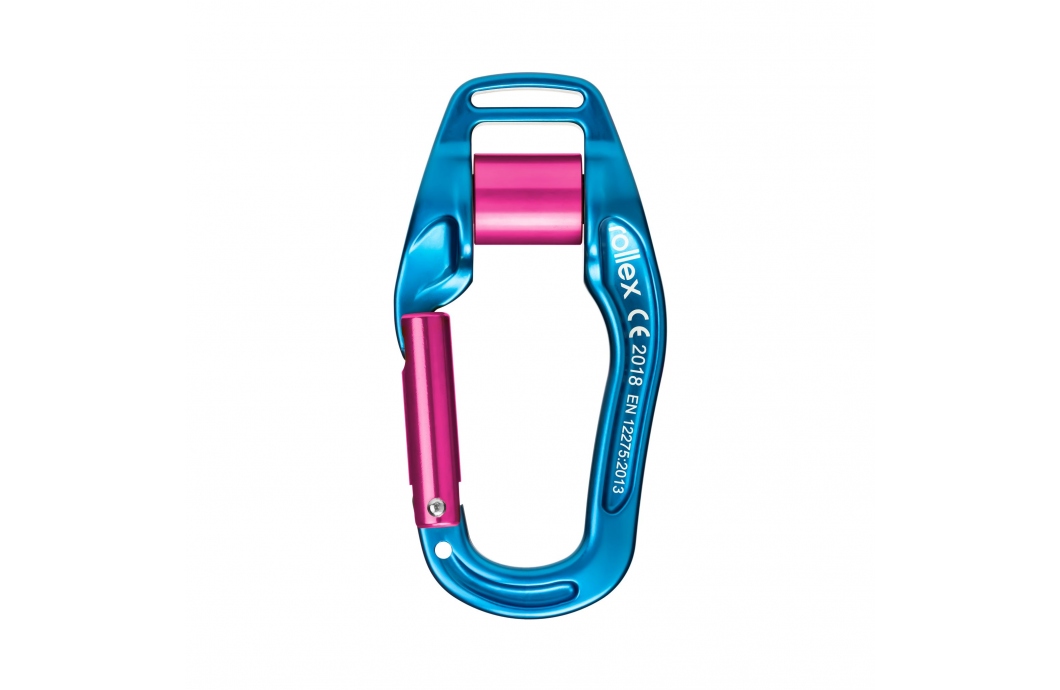 New generation carabiner pulley with 1 inch roll with possibility of Slide-Stop brake attachment. A must for each highliner, handy device for tensioning systems. Three colour option. To see prices without VAT choose your delivery county in the shopping cart.
Product description
Shipping to USA, Canada, Australia, Japan etc. only 14.99€!
After 2 long years of development, Rollex is finally in stock! Lightest aluminium carabiner with 1 inch roll. The roll runs on 2 ball bearings (SS version has stainless steel bearings), that guarantee a smooth movement. Aluminium roll also prevents jamming the line between bearings that was usual in older version of these carabiners. Surface of the roll is perfectly smooth so it leaves no pressure marks on the webbing. 
The shape of Rollex' body is optimized for high strength while reducing its weight to about 130 grams (yes, it´s really the lightest pulley carabiner). The carabiner's gate has a keylock shape so it doesn't snag while clipping it to the line or harness. There is a small lanyard hole under the gate so you can tie it off with a 3 mm cord to your harness. This way you will never drop your precious Rollex while clipping yourself to a highline :) 
Above the roll, there is a CNC milled slot for 1 inch webbing. It has several purposes, such as attaching the end of a thin webbing to create a separate tensioning system (when rigging a line with Linegrip, Snatch or Grippen), or you can use it with a "Slide-Stop" device on a highline. The Slide-Stop is very handy while taping the main line and backup, it prevents sliding on the line so you can use both hands for taping! Also, you can use the Slide-Stop to rest while getting across a long line (50m +). Slide-Stop is not included, it's sold separately.
Rollex is certified as a climbing carabiner (EN 12275 standard). You always have to use a saftey leash or another carabiner with opposing gate while sliding on a highline with Rollex.
Rollex is simply your new luxurious webbing pulley. So spin it up!
Manual
Data sheet
Weight

129 g

WLL

4 kN

Breaking Strength

22 kN

Inner width

26,5 mm
Utilization

FAQ
Rollex is not only the lightest pulley carabiner on the market. It also has an aluminium roll and you can attach a Slide-Stop to it. And it is also sexiest in our opinion :)
Ball bearings are sheated by aluminium roll so they are pretty well protected against rust but they could start corroding in agressive enviroment (eg. close to sea). In that case it is safer to use Rollex SS with stainless steel ball bearings that resists corrosion completely.