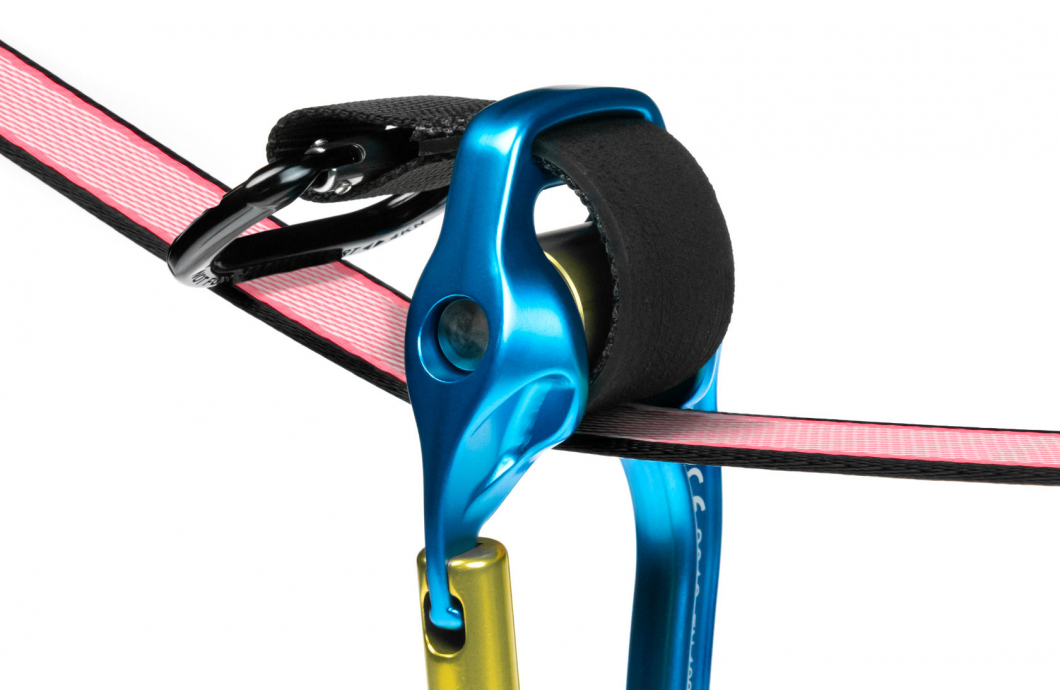 Slide Stop is a simple brake add-on for Rollex carabiner. It allows to "park" yourself on a highline while taping the line or resting. 
Product description
Slide Stop is simple yet efficient tool that works as a "handbrake" while resting or taping the highline. 
Warning! Slide Stop must not be used to stop the motion itself, it only prevents movement from resting position. 
Basically it is a piece of sticky rubber glued on a webbing with sewn eye. This construction makes it very durable (it doesn't last forever though, the rubber part will wear in time, especially when used on a steep angle (close to the anchor etc.)
Slide Stop is installed by inserting it to the webbing slot in Rollex. Simply put it through the slot facing the way you want to brake (usually sloping downwards). The rubber side must face up (away from the webbing). After you insert it in the webbing slot, bend the end of Slide Stop down and carefully slide over it. The rubber gets between the webbing and aluminium roll which prevents further motion. 
Slide Stop works optimally up to a certain slope angle. It might slip a bit on extremelly saggy lines (especially close to the anchor). 
You can use the sewn eye to clip Slide Stop to a carabiner (included in the kit) to secure it to your highline harness. This way, it is always prepared to be used quickly if you need to rest.
Utilization

FAQ
Not really. Slide Stop is designed only to prevent motion from a stop position (eg. while taping or resting on a long highline). You could melt the rubber if you tried to stop the sliding in speed.