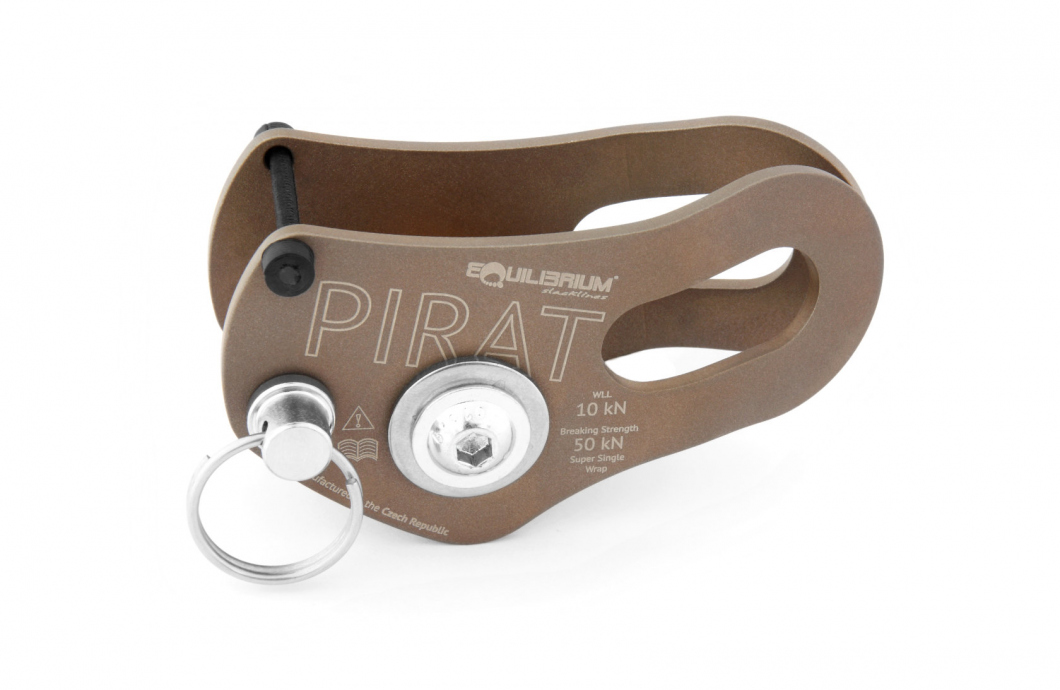 Light, yet sufficiently strong allround 1-inch weblock. If you are looking for "all in one" solution for all your projects, throw Pirat in your backpack for your next adventure!
Product description
Pirat is an universal weblock for a 25mm webbing. It is a "shackle" style weblock - it has bent sideplates with long anchoring hole that suits almost any size shackle or carabiner. This way there is no need to use and extra connector between the weblock and shackle. 
The main diverter diameter is 24 mm - sufficient size even for longlines over 100 m long (high-tension lines) yet still light enough to be used on a hihgline and you won't worry about its weight too much. 
Compared to older EQB weblocks (Bandit or Canon) Pirat uses time-proved QuickPin instead of FixPin. QuickPin makes inserting and removing the webbing from the weblock a matter of just few seconds. You can choose from 2 versions - lighter and cheaper Pull Pin (PP) or more secure Quick Pin (QP) with an extra safety button. Both pins have the same diameter (10 mm) and the same strength. 
There is a 3mm rubber cord attached between the sieplates above the pin. Its purpose is to keep the webbing inside Pirat in any case. This lowers risk of unwanted shift or twist of webbing before applying tension on the line and also it lowers risk of "tailwalk" (gradual slipping and shifting of webbing layers inside the weblock which might lead to a total failure of the whole system). 
Pirat is absolutelly universal tool that will help you realize all your slackline projects. 
Data sheet
Weight

265 g

WLL

10 kN

Breaking Strength

50 kN

Inner width

26 mm
FAQ
Pirat is and universal weblock. Bandit was very light but not quite strong enough for longlines. Canon was very strong but too heavy for everyday use. And above all, Pirat uses a QuickPin so managing the webbing gets much easier than before.
We used to test our weblocks with less accurate simple pull method in past, that shows higher strength of gear. Nowadays, ISA (International Slackline Association) created a new testing method called "Super Single Wrap - SSW" that shows much more realistic strength values of the actual weblocks' use. In reality, Pirat is stronger than Bandit.