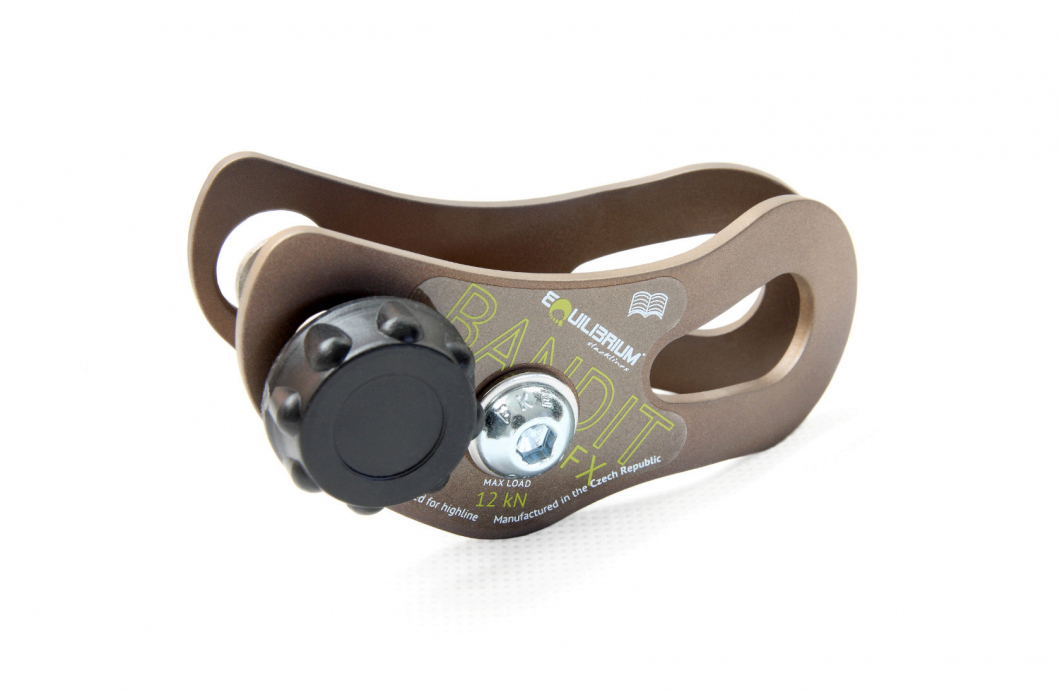 Longline, highline, waterline - Bandit FX can do it! This versatile lad, mivvy, can keep up with you in most of your projects.
Product description
Bandit FX is a new 10 % lighter yet 20 % stronger weblock version for 25mm lines. Breaking strength of more than 6 tonnes and safety ratio of 5:1 is what makes this weblock THE weblock capable of holding the lines as long as 100 m.
All that at a weight of 207 g!
Setting the line is a matter of seconds when FixPin concept is utilised. What's more, you need not fear of losing your FixPin because it's mounted to the Bandit's side plates.
Bandit's anchoring hole is large enough to accommodate more or less any quick link, steel carbiner or a shackle (anywhere between 8 - 14 mm). Bandit is so compact it'll fit in your pocket.
Bandit was designed, tested and made in the Czech Republic but we are proud that slackliners from more than 20 countries use it.
Locking the line with Bandit will be easy-peasy webbing-squeezy in whatever adventure you choose to take.
Manual
Data sheet
Weight

207 g

WLL

12 kN

Breaking Strength

60 kN

Inner width

26 mm
Utilization
FAQ
No special weblock is needed when setting a 50m line. It does however complicate and prolong tensioning simply because you won't be able to pre-tension the line. That's when Bandit comes handy - it will make the process easier and faster.
A 100m line is no challenge for Bandit's 6ton strength, however should you want to go further, you should bear the weblock's central cylinder diameter on your mind. The greater the diameter, the more webbing strength will be preserved. This is why it's a good idea to use rather robust weblocks such as EQB Canon FX when going for a longer line.
Due to absent legal restrictions for slackline (and especially highline), there are currently no norms in place and thus all manufacturers including ourselves are obliged to clearly state that their products are unqualified for highline. Products with at least 30kN MBS are however commonly used in highline but it is utterly important to get familiarised with all safety measurements and precautions, as well as having sufficient experience with tensioning.