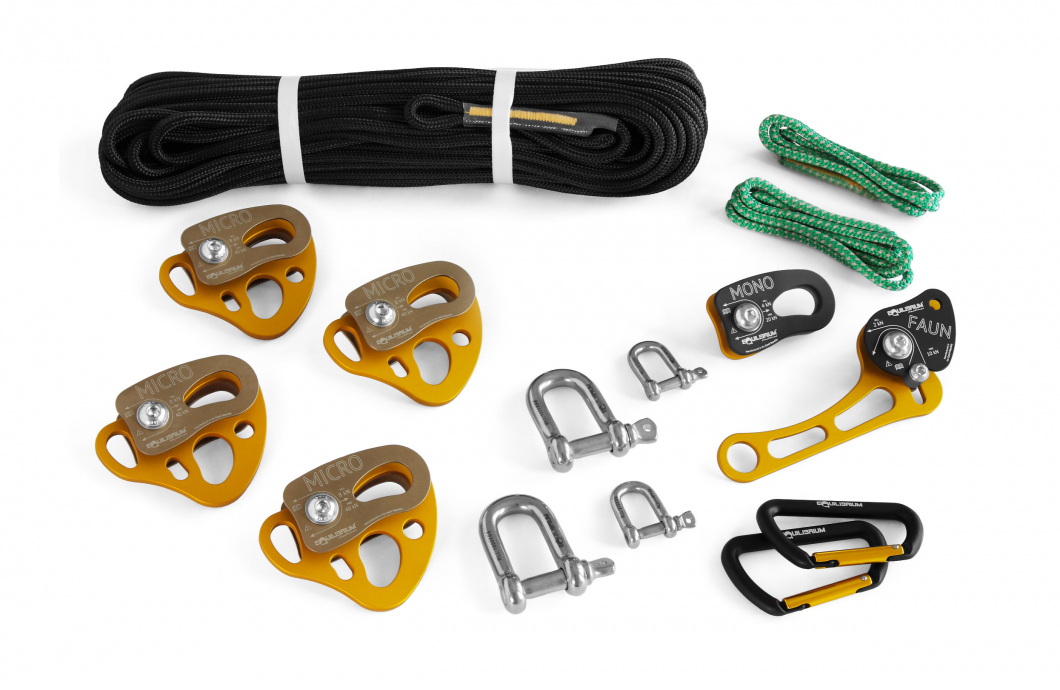 Extended version of a new compact and super light pulley system Micron - substitutes previous system Quatron. 
Product description
EQB Micron is the newest version of our specialized slackline pulley system. 
Micron Plus configuration substitutes previous pulley system Quatron - it is a quatro pulley system with a 3:1 or 5:1 multiplier. 
Micron is built around a super light 6 mm dyneema core rope (25 g/m) which is more than 50% lighter than previous rope. The new rope brake Faun has optimized geometry for easy handling and releasing even under higher loads. 
On top of that, Micron is also modular - it is possible to extend it (make it more efficient) according to current needs. In reality it means you can take just the Base version to rig a shorter line in the park but you can combine the gear with your friend to create a workhorse for a mega longline project.  
Micron Plus version (mechanical advantage 9:1) is suitable for rigging lines over 100 m long / 8 kN tension. Choice of multiplier (additional pulleys) depends on whether you prefer rigging alone or with friends. For a solo longliner we recommend getting the Double (5:1) - rigging is much easier. If you like to workout during tensioning :) or you often rig the line with some friends, the Mono version (3:1) will be enough. 
We recommend to get the 50 m rope with Micron Plus. It is also possible to use shorter 25 m rope - you start rigging with just half of the system in the beginning and add the second pair of pulleys after you pull out enough rope from the system (watch the video to get a better idea of the process). This way you save some weight and cost but it requires additional time for rigging. 
It is possible to get the Double Loop sling to make rigging easier - you clip the carabiner into the static rope and wrap the sling around your wrists so you can pull with your whole body. 
Micron is compatible with standard 10 and 12 mm shackles. Of course you can attach the sling style (2-pin) weblock directly (eg. EQB Mithril). 
Micron Pulley system was designed, tested and manufactured in the Czech Republic. 
IN THE MICRON BASE YOU WILL FIND:
ball bearings provide high efficiency in high tension over 6 kN
high strength bolts, MBS 40 kN, WLL 8 kN
with a sewn loop, professional dyneema core rope designed for use in pulley systems (MBS 18 kN, 25 g/m)
easy releasing even under high load, specially designed for 6 mm ropes
2x 6mm stainless steel shackle
2x 10mm stainless steel shackle
5mm vectran core prusik sling 
vectran core provides excelent strength to weight ratio
with aluminium carabiner, compact and lightweight pulley for 3:1 multiplier, ball bearing construction for high efficiency
with extra carabiner and prusik (multiplier 5:1 - Double) - compact and lightweight pulley for 5:1 multiplier, ball bearing construction for high efficiency
Manual
Data sheet
Weight

1150 - 1820 g

WLL

12 kN

Breaking Strength

60 kN
Utilization

FAQ
Micro Plus is built for 100m+ lines ;) Even the 3:1 Mono multiplier is enough to rig a 100m line alone if you have some power in your arms. With the 5:1 Double multiplier rigging a 100m line is a piece of cake for anyone.