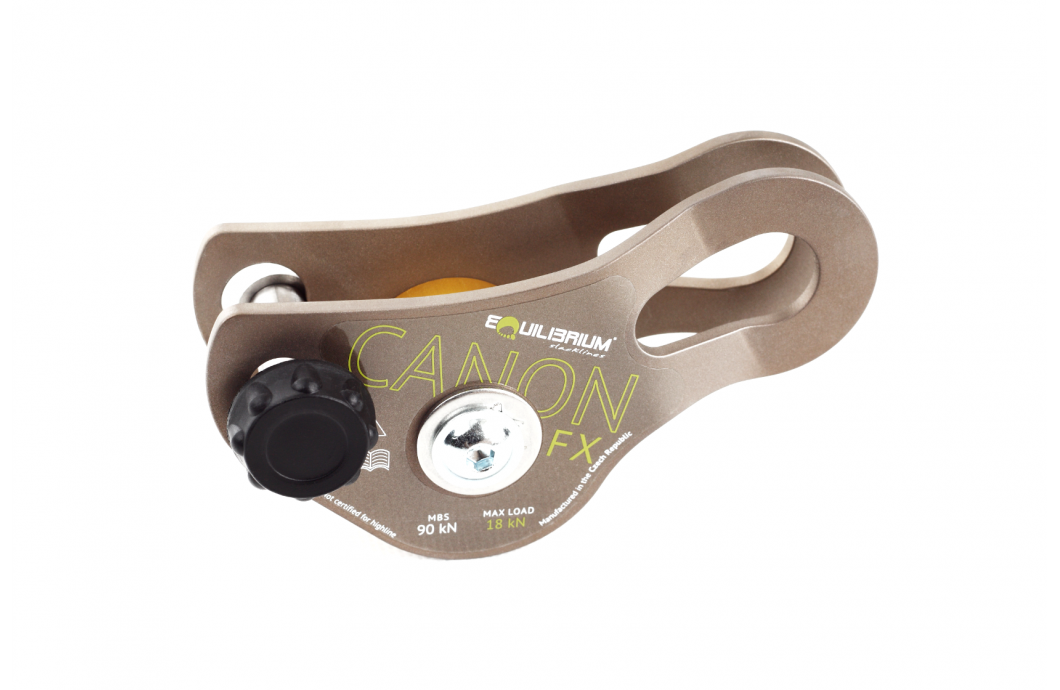 A weblock so strong it hurt a lab member's of staff ego while trying to tear it apart. Oh, and unlike the unharmed weblock, the pull tester had to be fixed.
DISCOUNT - Slightly scratched sticker
Product description
Canon FX is designed for both advanced slackliners and visionaries; its complex design guarantees WLL of up to 18kN. Used materials and construction methods set weblock safety ratio to 5:1.
36mm-wide main axle preserves roughly 95% of total webbing strength (depending on the webbing). Canon is best used when pre-tensioning the line by hand, effectively utilising maximum length potential of the tensioning system.
Canon's anchoring hole is large enough to accommodate all common shackle sizes (stainless steel, GreenPin etc.). Side plates' height allows double-layered webbing anchoring in a single Canon i.e. when practicing longline.
Our aim was to develop a truly reliable weblock suitable for your most adventurous ventures.
It was designed, tested and made in the Czech Republic.
Data sheet
Weight

455 g

WLL

18 kN

Breaking Strength

90 kN

Inner width

26 mm
Utilization
FAQ
Canon's construction withstands load of any line no matter the length. Its higher weight makes it however somewhat better for longer lines, so for lines shorter than 100m, we think it might be best to go for something like EQB Bandit FX.
Due to absent legal restrictions for slackline (and especially highline), there are currently no norms in place and thus all manufacturers including ourselves are obliged to clearly state that their products are unqualified for highline. Products with at least 30kN MBS are however commonly used in highline but it is utterly important to get familiarised with all safety measurements and precautions, as well as having sufficient experience with tensioning.