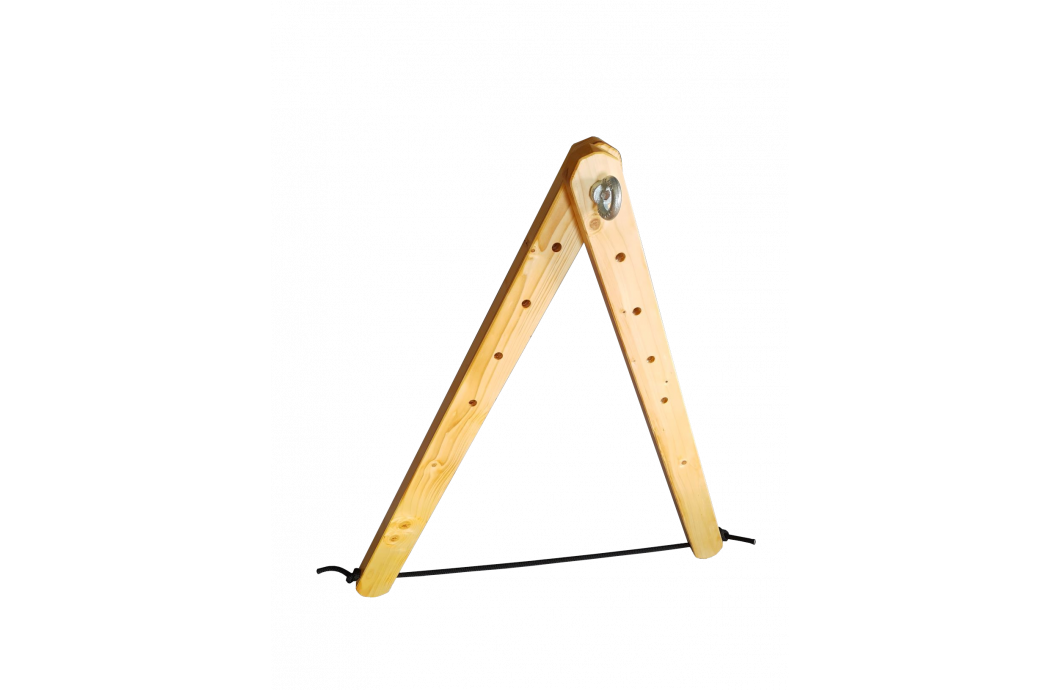 Wooden A-frame to rig a slackline without trees. 5 different anchor heights.
Product description
Wooden A-frame to rig a slackline without trees. You can attach the line in 5 different heights (87 cm, 75 cm, 64 cm, 52 cm, 39 cm).
The A-frames are made of spruce wood with a protective paint coat. You set the different height with a threaded rod with 2 eye nuts. Always use the eyes in vertical orientation to prevent bending the threaded rod ! 
The anchor pegs are not included.
Price per 1 piece. 
Data sheet
Weight

≈ 3000 g

WLL

6 kN

Material

spruce wood
Utilization
FAQ
There are several ways to do so. You can use a small tree (trunk diameter 15-30 cm) that is not strong enough to anchor the line in standard height. You have to put the anchor sling as close to the ground as possible! You can also use ground screw anchors (with screw plate) with min. 12 mm rod diameter - these work only in clean soil without tree roots or stones and gravel. Next you can use steel or wooden pegs (We recommend to use at least 2 pegs min. 50 cm long - depends on the length of the line and strength of the soil). Lastly, you can make a "dead man anchor" - anchor burried under ground with a chain or cable pulled above the ground.