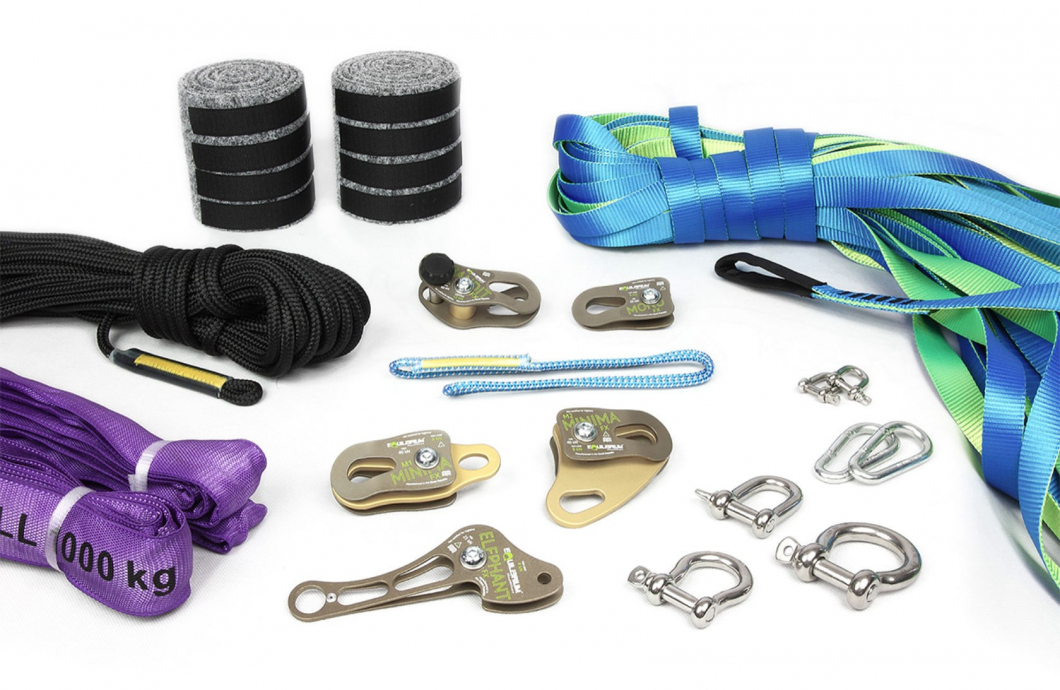 A comprehensive longline kit for enthusiasts who are not afraid of falls and are ready to push their limits.
Product description
The Phoenix is a comprehensive longline kit with Minima FX tensioning pulley system. Thanks to the pulley's high efficiency, setting up even 80m-long line is so easy you can do it yourself.
Both high-efficiency and light-weight were on our minds when designing the Phoenix. Stainless steel shackle and woven eye locking on the webbing fixed side, or ultra-light EQB Pirat weblock, is used to set and tension the webbing with a snap of your finger.
All used parts work as one meaning you need not spend another penny on other gear. It's ready to go. The whole set fits in a bag perfectly making it ideal for daily longline in a park or while travelling.
If you plan to further improve your slackline skills, EQB Phoenix should be your next step. Designed, tested, and made in the Czech Republic.
What will you get in Phoenix kit (besides tons of motivation):
Dragon -  durable polyester webbing with sewn loop, 50 or 80 meters
Minima FX - ultralight pulley system with several rope lenghts and multiple options
EQB Pirat - best selling webbing locker
Shackle Omega 12mm - stainless steel
Shackle Omega 10mm - stainless steel
Shackle D 10mm - stainless steel
two Spansets (WLL 1 ton, 2 or 3 meters)
TreePad - tree bark protection
Manual
Data sheet
Width

25 mm

Weight

7,1 kg ~ 10,5 kg

Length

50 m / 80 m

WLL

8 kN

Breaking Strength
FAQ
The set contains everything you need including tree protection. All that's needed is enthusiasm, courage and patience :)
The choice depends on whether you will set the webbing alone or in a group. If the former one, we suggest 5:1 multiplier for surely you don't wish to wear off yourself quickly. If the latter one, basic 3:1 multiplier will do just fine. Check our Slackinfo page for more details.
Due to absence of slackline legal regulations, no manufacturer including ourselves is allowed to say their products are suitable for highline. Products with breaking strength above 30 kN are commonly used in highline however it is imperative to familiarise yourself with all safety measurements as well as to be experienced enough before taking such steps.