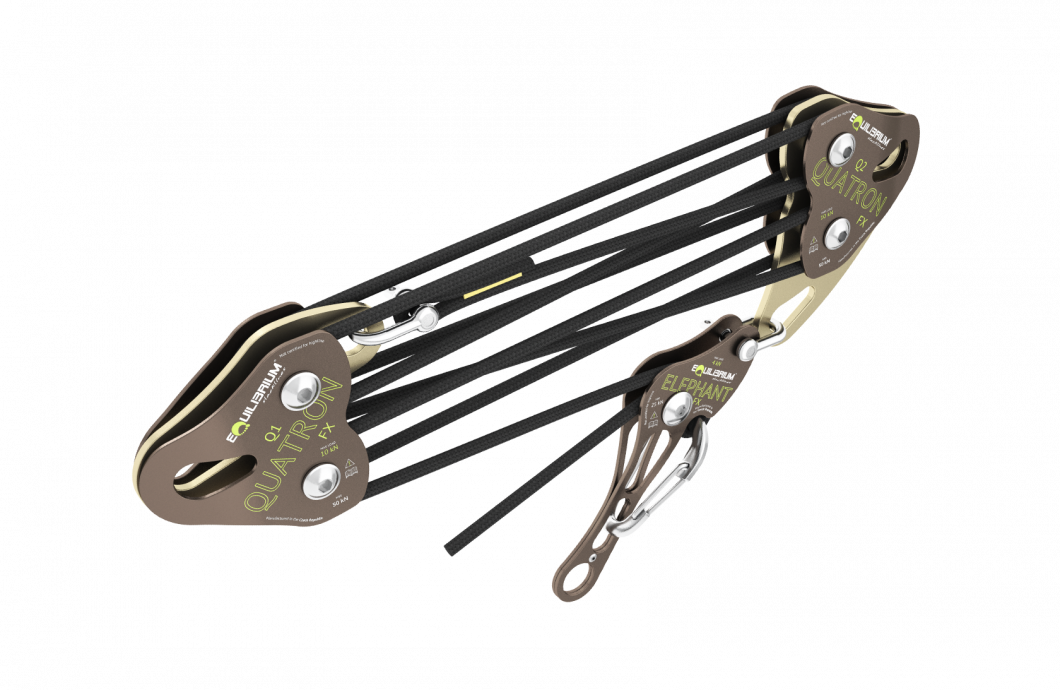 Quatron FX is categorised as a quadruple pulley, basically it's two pulley systems in one. This is what makes rigging 100m line a breeze even for the loneliest slacker. Working on a new pulley system. Available soon!
Product description
Let's dig into history a bit - Quatron FX is the very first quadruple pulley system developed solely for rigging the longlines. But trickliners have fallen in love with it too for tensioning a trickline longer than 20 m supertight and superquick. 
Quatron FX is a pulley system designed for 8mm static rope that is light yet very strong and easy to work with. A special Elephant FX rope brake is mounted directly to the rear pulley leaving you in no need of a rigging plate or additional anchoring sling.
High-quality ball bearings are included; we've used 4 of those in each of Quatron's pulley. That does indeed provide maximum tensioning efficiency (a single person can rig the line to 1 ton of tension) and increased safety due to force being spread on multiple parts of the system.
You can choose from a variety of rope lengths and multipliers, the table below will help you choose what's most suitable for your needs.
Quatron FX is the slackline top-tier pulley system, a reliable system for professionals. Extreme efficiency, low weight, ball bearings, built-in rope brake, compact 8mm static rope. If you aim far and high, search no more. Quatron was designed, tested and made in the Czech Republic.
In Quatron FX pulley system you will find:
2x quatro pulley Quatron (Q1 + Q2)

optimized construction of front (moving) and rear (fix) pulley
polished stainless steel sideplates – sufficient 5:1 safety ratio
quality sealed ball bearings provide high efficiency even over 10 kN of tension
high-strength bolts M8 with 10.9 hardness class
mini pulley strength min. 50 kN (10 kN WLL)
8 mm PES static rope with sewn loop (in several lenghts)
professional rope with polyester core and coating designed especially for pulley system usage
8 mm diameter, 13 kN strength (250 kg WLL), weight 49 g/m
minimum stretch and perfect grip in rope brake
sewn loop ending for direct attachment to the pulley
Elephant rope brake with a carabiner
self-locking principle with high reliabilit
easy releasing even under high tension (WLL 250 kg)
special designed for 8mm rope
 6mm stainless steel straight shackle, 2 pieces
elegant connection element with 15 kN strength (375 kg WLL)
connection of rigging rope to the anchor eye of front pulley
connection of rope brake to the anchor nose of fix pulley
5mm vectran sling for a prusik knot
vectran core provides incredible strength, reliability a durability of the sling
polyester coating protects the core and gives perfect friction to the rigging rope
15 kN strength (375 kg WLL)
single pulley with a carabiner
compact and light pulley for the 3:1 multiplier
sealed ball bearing guarantees high efficiency for multiplying the rigging force
double pulley with extra carabiner and vectran prusik sling (in 5:1 multiplier only)
compact and light pulley for the 5:1 multiplier
sealed ball bearing guarantees high efficiency for multiplying the rigging force
Manual
Data sheet
Weight

3250 g / 5600 g

WLL

10 kN

Breaking Strength

50 kN
Utilization
How to choose a system by line
System drawing
FAQ
In principle, Quatron FX is a dual pulley system using quadruple pulleys instead of double pulleys increasing its efficiency compared to standard pulleys. Its construction is what makes Quatron safer for long and tight lines.
Due to absent legal restrictions for slackline (and especially highline), there are currently no norms in place and thus all manufacturers including ourselves are obliged to clearly state that their products are uncertified for highline. Products with at least 30 kN MBS are however commonly used in highline but it is utterly important to get familiarised with all safety measurements and precautions, as well as having sufficient experience with tensioning.