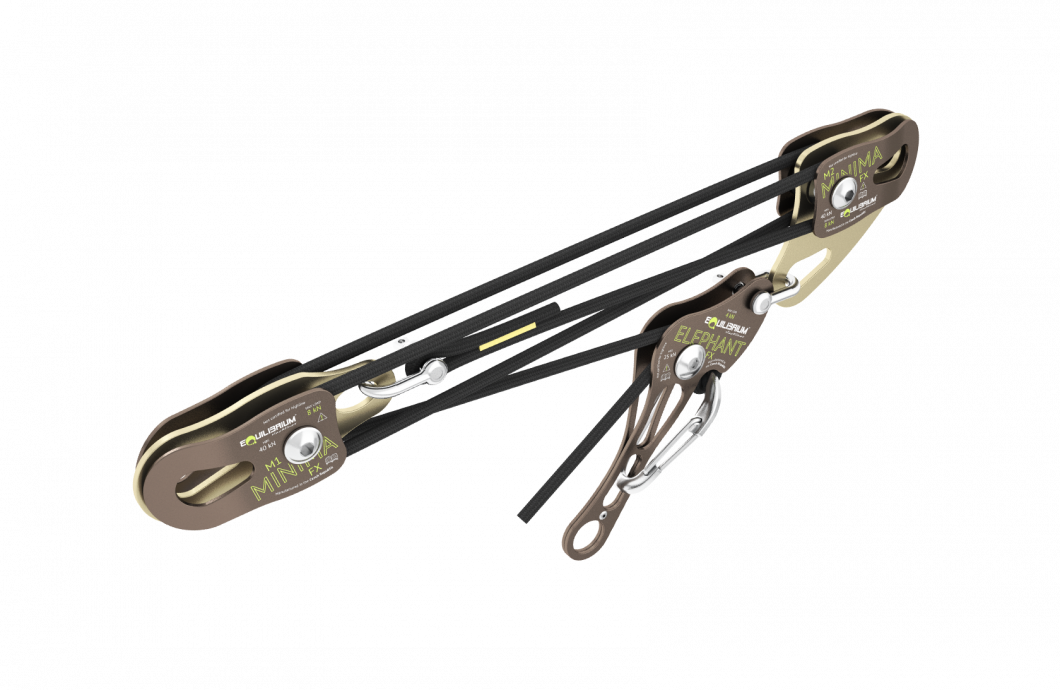 All superlatives needed to describe this pulley system simply wouldn't fit into the description so we'll be brief: Minima FX is a well-balanced system of versatile pulleys that will change the way you now see slackline rigging. Working on a new pulley system. Available soon!
Product description
Walking on longlines is wonderfully relaxing but we doubt anyone enjoys carrying all the heavy gear. Well, we know for sure we don't enjoy that which is why we've designed Minima FX - lightweight yet efficient pulley system that makes tensioning a line longer than 50 m a piece of cake.
Minima FX is designed exclusively for 8mm light yet strong and easy to work with static rope. The pulley system design is actually optimised for slackline tensioning and comes without any unnecessary components.
Rope brake Elephant FX is mounted directly to the rear pulley requiring no rigging plate or extra anchoring sling. Its long handle and ergonomic shape is what makes releasing the system safe even under heavy load.
Despite the pulley's lightweight, more than 4ton breaking strength is guaranteed. High system efficiency is delivered by high-quality ball bearings that will not get stuck even upon heavy load. The key to that all is in used materials - stainless steel side plates and aircraft aluminium middle plate.
The whole Minima FX pulley system with a 30m rope weigh below 2.5 kilo and will let you tension a 100m line easily. There's no point in thinking why this pulley system shouldn't be a part of your rack.
Minima FX pulley system was designed, tested and produced in the Czech Republic.
In Minima FX pulley system you will find:
2x double pulley Minima (M1 + M2)
optimized construction of front (moving) and rear (fix) pulley
polished stainless steel sideplates – sufficient 3:1 safety ratio
quality sealed ball bearings provide high efficiency even over 6 kN of tension
mini pulley strength min. 40 kN (8 kN WLL)
8 mm PES static rope with sewn loop (in several lenghts)
professional rope with polyester core and coating designed especially for pulley system usage
8 mm diameter, 13 kN strength (250 kg WLL), weight 49 g/m
minimum stretch and perfect grip in rope brake
sewn loop ending for direct attachment to the pulley
Elephant rope brake with a carabiner
self-locking principle with high reliabilit
easy releasing even under high tension (WLL 250 kg)
special designed for 8mm rope
 6mm stainless steel straight shackle, 2 pieces
elegant connection element with 15 kN strength (375 kg WLL)
connection of rigging rope to the anchor eye of front pulley
connection of rope brake to the anchor nose of fix pulley
5mm vectran sling for a prusik knot
vectran core provides incredible strength, reliability a durability of the sling
polyester coating protects the core and gives perfect friction to the rigging rope
15 kN strength (375 kg WLL)
single pulley with a carabiner
compact and light pulley for the 3:1 multiplier
sealed ball bearing guarantees high efficiency for multiplying the rigging force
double pulley with extra carabiner and vectran prusik sling (in 5:1 multiplier only)
compact and light pulley for the 5:1 multiplier
sealed ball bearing guarantees high efficiency for multiplying the rigging force
Manual
Data sheet
Weight

1850 / 3150 g

WLL

8 kN

Breaking Strength

40 kN
Utilization
How to choose a system by line
System drawing
FAQ
Setting a 100m line with Minima FX is easy-peasy. We however suggest you use at least a 30m long rope, and a 5:1 ratio multiplier that will make setting the line much easier. But if you're after a pulley system with ever greater efficiency, check out Quatron FX.
Due to absent legal restrictions for slackline (and especially highline), there are currently no norms in place and thus all manufacturers including ourselves are obliged to clearly state that their products are unqualified for highline. Products with at least 30kN MBS are however commonly used in highline but it is utterly important to get familiarised with all safety measurements and precautions, as well as having sufficient experience with tensioning.