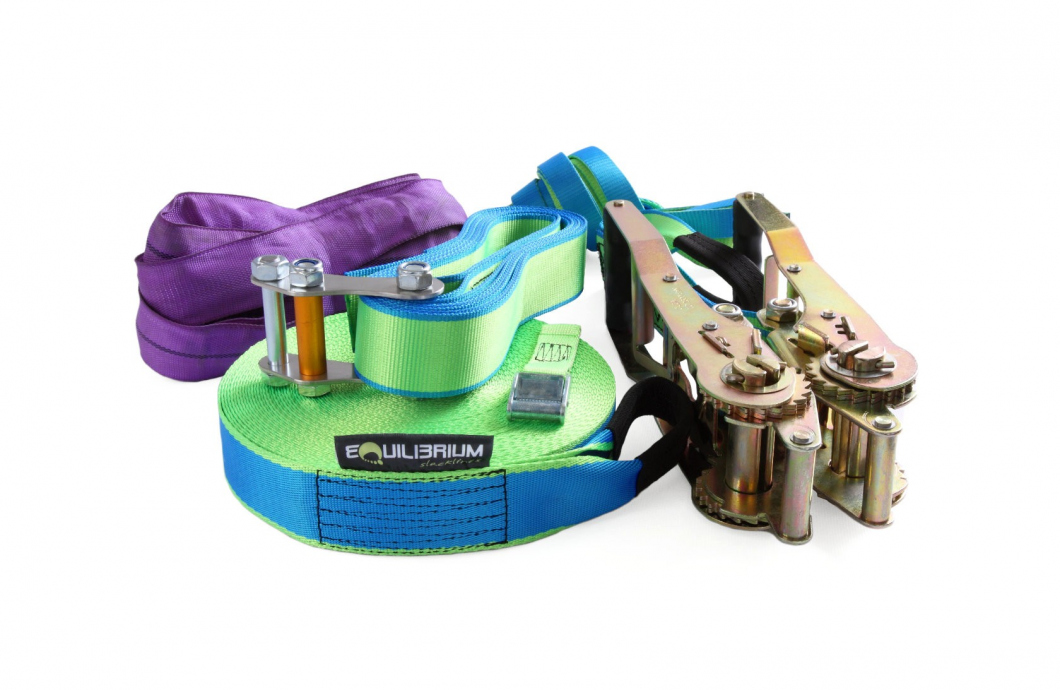 Do you wanna win the next trickline championship? Follow the white rabbit and start working out now! Our professional Rabbit trickline kit is here to help you with that.
Product description
The Rabbit set introduces a completely new way of trickline tensioning; ratchet benefits (availability, easy manipulation) and pulley benefits are combined together (which allows to "string" a really long line).
A standard trickline requires 2 large ratchets, and so does Rabbit. In a way.
The trickline is mounted to the Rabbit using 50mm weblock attached to a double webbing with each end in a ratchet. Start tensioning the line as if it was a standard trickline but the moment the other ratchet is fully set, the first one is to be applied. That is how you keep going.
This way you are not limited by ratchet capacity and can set a much longer line.
Upon final tensioning, both ratchets have to be connected at once as that will split the total haul allowing you to tension the line a bit farther. It's a little safer too.
The line haul de-tension or complete release is achieveable thanks to the de-tensioner on the weblock side. All Rabbit components are designed to provide maximum safety allowing you to focus solely on jumps and hard-core level combos.
Tumble down the Rabbit hole to reach the trickline higher dimension! Designed, tested, and made in the Czech Republic.
Kit Rabbit includes:
25 m Nitro - 4ton 2inch trickline webbing
EQB Booster - complete trickline rigging system 
    2x XXL ratchet with a double anchor sling
    2x 2m tensioning strap
    Paddle Flat - 2 inch weblock
    5m soft release webbing with sewn loop and cambuckle
    4m backup webbing
3x Shackle Omega 12 mm, stainless steel
2x spanset (WLL 1t, 2 or 3 m long)
Treepad - tree protection, because a tree is your friend :) 
Manual
Data sheet
Length

25 m

Width

50 mm

Weight

9,9 kg

WLL

10 kN
FAQ
Ergo ratchets are included in the Rabbit kit. Those are solid, 5 ton pieces with extended handles and reliable build. The tensioning system configuration halves the total force between both the ratchets leaving no room for fear even while performing the most intensive tricks.
The Rabbit kit takes advantage of Booster system which is basically two parallel ratchets. In such combination, the ratchet total haul is halved. That increases both system efficiency and safety. To keep it simple, the Rabbit will let you string the line far more than an ordinary double-ratchet trickline set.